Summer Savings with a Smart Thermostat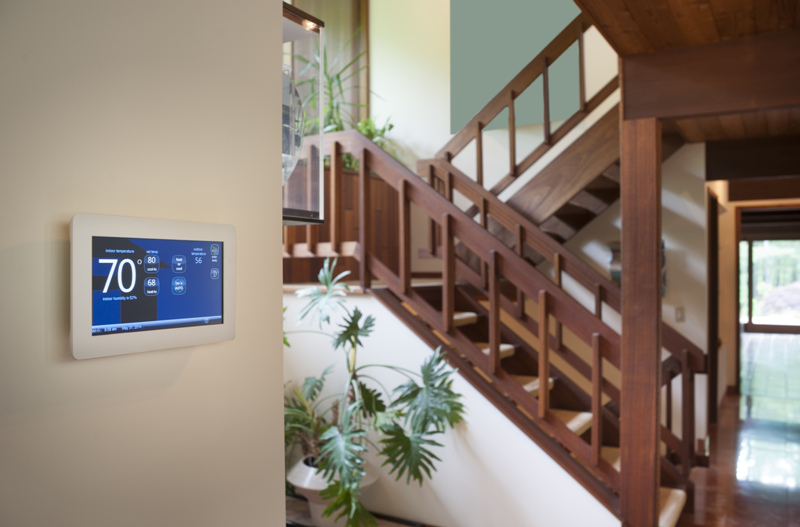 Latest posts by Wayne Wahrsager
(see all)
Wouldn't it be great to have one summer where your energy bills don't cause panic? Every year, they seem to get higher – and with more families staying home this summer, they're bound to be higher than ever. The good news is, it doesn't have to be that way. When it comes to your home's cooling system, you can have better cost control with the help of an energy-saving smart thermostat.
A smart thermostat, equipped with ENERGY STAR ® certified technology, can help you save money on your energy bills this summer. Here's what it can do automatically.
Turn off the AC when your house is empty. 
One way people can use too much energy in the summer is by leaving the AC on when they leave home. The result is cold air blasting when the house is empty, which feels good for a few minutes when you return – but costs a lot more money than its worth.
Here's a better way: With a smart thermostat, its Geo-Services technology will know when you're leaving home and turn the AC off accordingly. Then, to get the house cool before you return home, simply pull out your smartphone and turn it back on a few minutes before your arrival. It's simple.
Let you know when an open window will cost you. 
When a window or door is cracked open while the AC is on, the cool air quickly leaves your house – and right along with it, money is quickly leaving your wallet.
If you have a smart thermostat, you'll receive a notification immediately to let you know when a door or window is left open. At the same time, your air conditioning will automatically pause until the door or window causing the problem is closed. This is more than a thermostat; it's powerful technology that helps families save real money all year long, especially in the summer.
Make your lighting more intelligent and connected.
Energy-saving lightbulbs are a fantastic modern invention, but the advantages only go so far. By replacing some of your current household lighting for smart lights, you'll be able to connect your lights to your security system and control them with your smartphone. That means using your phone to turn lights on or off anytime, or programming them to turn on and off at exact times of day. By reducing unnecessary lighting, you're reducing your energy bill.
With a smart thermostat, this can be the first summer you save on household energy. Learn more about this technology by contacting Commercial Fire & Security. We will be happy to answer your questions.
About Commercial Fire & Security 
Commercial Fire & Security is a locally operated, family-owned company where security is our only business. We work and live in the communities we protect, and our Five Diamond, Certified Alarm Monitoring Center has your back 24 hours a day. Call us at 855-237-3300 to request a quote or speak with our experienced security professionals.