Home Security Help for Halloween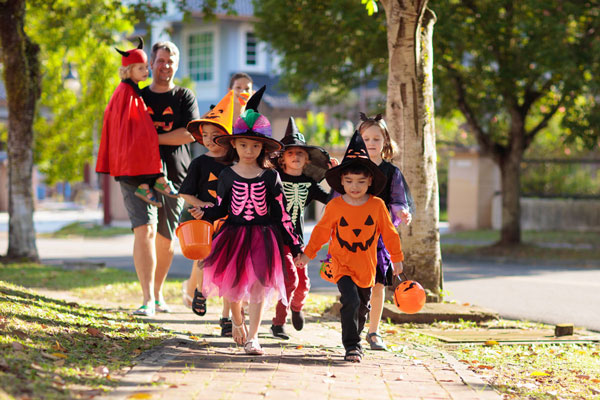 Latest posts by Wayne Wahrsager
(see all)
For the second year in a row, kids and parents will celebrate Halloween more cautiously due to COVID. But that's not the only public safety issue to be concerned with this Halloween. If you're a homeowner in New York, you'll want to do your part to keep your home and neighborhood safe from the vandalism and intrusion spikes that happen every Halloween. 
Halloween Crime Data   
Data from Travelers Insurance points to a 22% spike in crime-related home insurance claims the week of Halloween — a trend that's remained steady for the past decade. They report that Halloween crime often begins the night before, with claims increasing by 2% on October 30, jumping to 16% Halloween, and shooting up to a 46% increase on November 1. That's a stark reminder of just how vulnerable your property is this time of year.
Often, Halloween is the time when mischief makers decide to cross over into criminal activity.   
Not That Innocent 
When most of us were growing up, Halloween decorations amounted to a single jack-o-lantern on the front porch. But these days, homeowners go all out with large, inflatable ghosts, witches and other spooky characters. Just as you may have elevated your Halloween decorating scheme, the vandals in your neighborhood have elevated their Halloween crime game as well. They're no longer content to smash pumpkins; now, they're coming for your expensive decorations. If they're truly intent on causing damage, they may even vandalize your home or break into it. Sadly, Halloween mischief is no longer about innocent pranks. 
Protect Your Property  
Fortunately, we have home security technology that can make your home less vulnerable to Halloween crime. Here are some tips to make the most of it.  
Increase your camera coverage. The more you can see from your outdoor cameras, the better. Make sure you can see the areas where you store toys, tools and other equipment with your cameras. If not, it may be time to add on more. 
Protect your windows. The windows facing your backyard are more vulnerable to break-ins, since criminals tend to believe the backyard is not being monitored. Prove them wrong by adding cameras that capture activity at the windows in your backyard. 
Make sure everything works. Halloween is not the time to let your home security slide. Make sure your cameras are working and operational, with fresh batteries, and contact us right away if you have any maintenance concerns about any of your home security equipment. 
We want your family to enjoy a secure, happy Halloween this year. To discuss home security cameras that protect your family year-round, call Commercial Fire and Security today. 
About Commercial Fire & Security
Commercial Fire & Security is a locally operated, family-owned company where security is our only business. We work and live in the communities we protect, and our Five Diamond, Certified Alarm Monitoring Center has your back 24 hours a day. Call us at 855-237-3300 to request a quote or speak with our experienced security professionals.