How to Automate Your AC & Save Big On Your Summer Electric Bill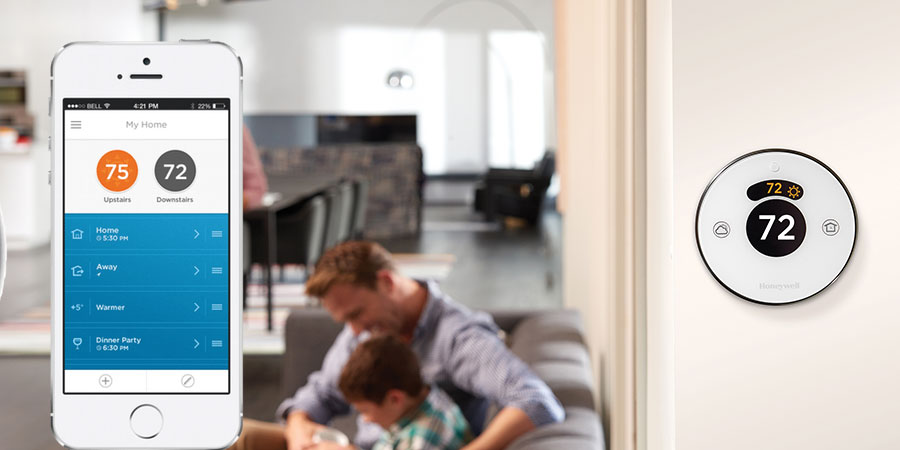 Latest posts by Wayne Wahrsager
(see all)
As summer approaches, many of us are bracing ourselves for the high electric bill to come. With heating and cooling costing the average family $900 a year, it makes sense that the hot summer months account for a big chunk of that. It's no wonder energy-saving smart thermostats are becoming so popular, and no wonder people are making the switch to smart home security systems. After all, smart home security can include a smart thermostat as an optional part of the system. Here are some ways a smart thermostat can save you money on the electric bill this summer.
Responding to Activity
When you have a smart thermostat, it can proactively respond to the activity in your home and intuitively "decide" when to cool things down. The more it knows about your routines, the more effective it can be. Your system uses contact sensors – the same ones that alert your security system if there's an intruder attempting to break in. This intelligence can serve multiple purposes; it keeps your home secure and keeps your temperature comfortable affordably.
Reacting to Errors
Let's say your air conditioning is running and you mistakenly leave the back door open, or maybe the bathroom window stays cracked. That's an error that can waste electricity and cost you money. But if you have a smart thermostat, it senses that open window or door and reacts to the error so you don't pay a hefty price. It automatically sets your thermostat back, saving the energy – and, you can get a smartphone alert that reminds you to close the door. Once you do, the thermostat returns to normal. Problem solved!
When you have a smart thermostat, it can proactively respond to the activity in your home and intuitively "decide" when to cool things down
Communicating with Your System
Your smart thermostat can also communicate with your security system and operate based on what the system tells it. So, that means your system can be programmed so that when you arm the alarm before leaving the house, it triggers the thermostat to adjust itself so the air isn't running when you leave. If you want to take the savings one step further, you can also have it turn your lights off and your sun-blocking window shades down. There's even a setting called "scenes" that allow you to create a series of commands for certain actions. That way, it all happens automatically like clockwork. This is powerful, money-saving technology.
To learn more, contact Commercial Fire & Security. We would love to answer your questions.
About Commercial Fire & Security Inc.
Commercial Fire & Security is a family-run, locally-operated company where security is our one and only business. We live and work in the communities we protect, and our Five Diamond, Certified Alarm Monitoring Center has your back 24 hours a day. Call us at 855-237-3300 to request a quote or speak with our experienced security professionals.
::::::::::::::::::::::::::::::::::::::::
"*" indicates required fields