Integrating Smart Locks & Home Security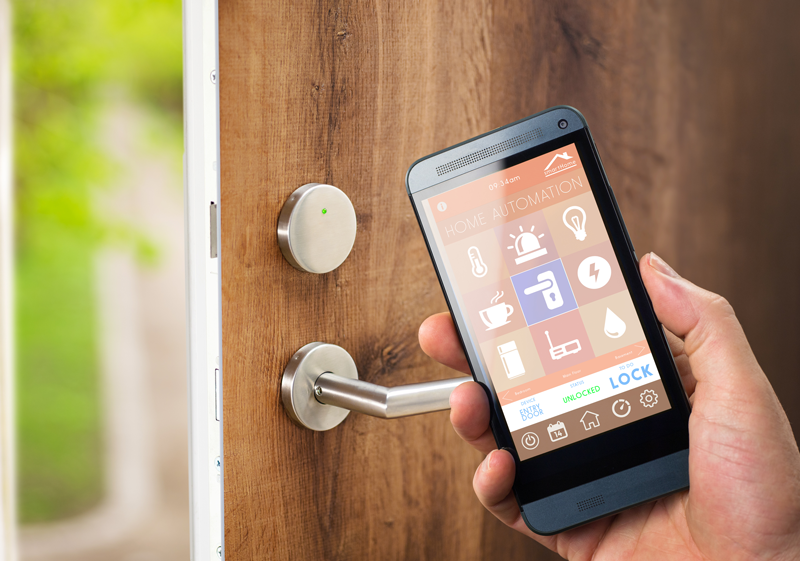 Latest posts by Wayne Wahrsager
(see all)
If you're still using (and losing) house keys, it's time to think about modernizing the way you access your home. That means upgrading your traditional doorknob to one that's protected by a smart lock. With a smart lock, you can stop worrying about where you put your house keys, because you won't need them anymore. Instead, you'll enjoy the safety and convenience of managing access to your home from wherever you are.
How a Smart Lock Works
A smart lock is a keyless lock that allows you to open a door without a physical key. For most smart locks, there's a numeric keypad that grants entry when the right code is entered. When you trust us to professionally install the smart lock on your front door, you'll have the added convenience of controlling it remotely using the home security app on your smartphone. This is made possible by the smart lock connecting to your home's WiFi.
Other Benefits of a Smart Lock
A smart lock is a powerful way to grant access to your home remotely. It provides you: 
Keyless functionality, so you can open the door with a simple code or tap on your smartphone.

Unique access codes for up to 30 users. Use them to grant access to the kids, babysitter, housekeeper and more.

Temporary codes for temporary visitors, like houseguests or contractors working on your home.

Smartphone notifications that remind you to lock up the house – again, with a tap on your phone.
Integration with Other Devices
Your smart lock can also integrate with other smart devices in your home – for example, your doorbell camera. When a delivery driver is at the door and you're at work, all you have to do is use the two-way speaker to ask him to place your package inside safely; then, let him in by opening your smart lock remotely with your phone.
Your home management devices can also be integrated with your smart lock. By integrating with your Google Home or Amazon Echo device, locking the door can be as easy as saying, "Hey Google, lock the front door" while you're in the next room. You can also unlock the door for visitors using the same functionality.  
With the right kind of smart home system, your smart lock can even be programmed to enable a series of commands with one touch. That means one touch on the app to lock your door, arm your security system, turn off the lights and adjust the thermostat. Simple and convenient!
Creating Custom Rules for Smart Locks 
Like other smart home devices, you can also create custom rules for your smart lock using your home security app dashboard. You may choose to customize rules for:
Locking your door automatically after a given amount of time.

Arming your security system when the door is locked. 

Turning off your lights when you lock your front door.

Locking your door with the sound of your voice.
As you can see, a smart lock is more than just a lock; it's a powerful tool for home security and home management. Call us today to learn more.
About Commercial Fire & Security
Commercial Fire & Security is a locally operated, family-owned company where security is our only business. We work and live in the communities we protect, and our Five Diamond, Certified Alarm Monitoring Center has your back 24 hours a day. Call us at 855-237-3300 to request a quote or speak with our experienced security professionals.