More Features in a Smart Home Automation Thermostat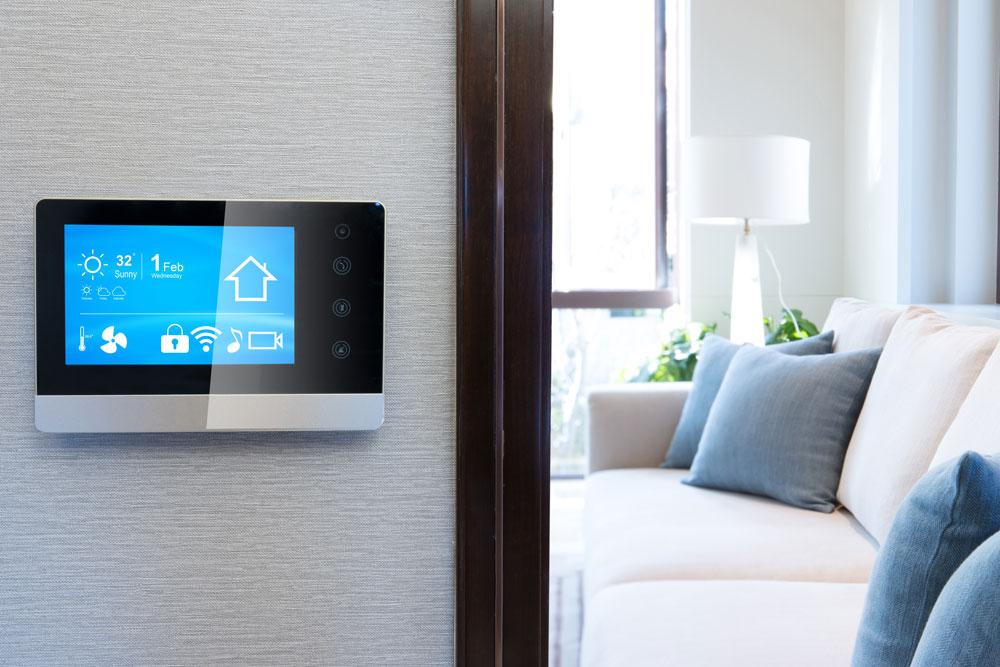 Latest posts by Wayne Wahrsager
(see all)
Coming home to a dry, comfortable house is the reward you get for braving the weather all day in the middle of the rainy spring season. Rather than leaving the house cold all day, adjusting the thermostat when you get home, then waiting up to an hour for the house to reach a comfortable temperature, you can do things a smarter way. The device that provides the way is a smart thermostat, part of our home automation systems. 
Smart Thermostat Sensors and Geo-Services   
We love talking about the remote sensors and geo-services features of the smart thermostat. You can choose to get remote sensors for as many rooms in your home as you would like, in order to make each room the precise temperature you want it to be. Kids' rooms can be warmer than common areas, bathrooms can be cooler than the kitchen, and so on. 
Meanwhile, geo-services technology taps into the location of your smartphone to intuitively control the climate of your home. When you leave the house, your smart thermostat communicates with your phone to know when to adjust the temperature while you're away. As you near your address on the drive home, it will adjust once again so the house will be as warm or cool as you want it the moment you walk in the door. 
Smart Thermostat Weather Adjustments 
There's almost nothing more certain in life than the changing of weather. If the skies turn gray and the temperature drops significantly while you're at work, you can rest assured that your smart thermostat is ready to make the adjustment earlier that day. That way, the house is warm enough for your arrival. 
You'll also receive real-time, local updates — perfect for anyone who has a long commute to work. If you work in a different community than the one in which you live, this is a great feature to tap into. 
Smart Thermostat Parental Controls 
Parental controls aren't just for the TV. Once kids learn how they can adjust the temperature in the house, they're likely to give it a try (especially if they're kids who tend to be "always" hot or cold). Fortunately, there's a parental control lock-out feature, so that no one but you can adjust it. It's easy to set the parental controls on your smart thermostat.  
Call Commercial Fire & Security to Learn More 
A smart thermostat is a small, but powerful device with tons of features to make home life more comfortable. If you haven't yet included it in your smart home automation setup, call Commercial Fire & Security today. We'd love to tell you more. 
About Commercial Fire & Security  
Commercial Fire & Security is a locally operated, family-owned company where security is our only business. We work and live in the communities we protect, and our Five Diamond, Certified Alarm Monitoring Center has your back 24 hours a day. Call us at 855-237-3300 to request a quote or speak with our experienced security professionals.