Why Smart Secret Agents Use Smart Home Security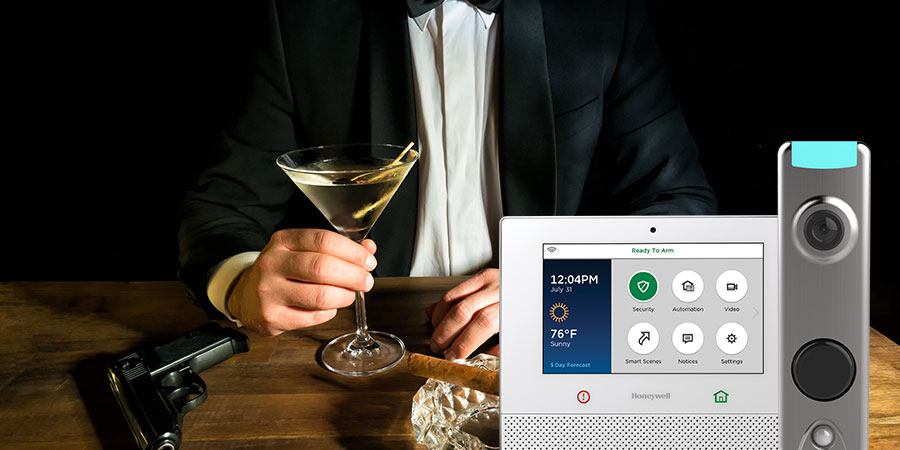 Latest posts by Wayne Wahrsager
(see all)
Ok, there's just something exceptionally cool about Agent 007. But have you ever wondered what has made the character retain such huge popularity over 50 years? Is it that he is impeccably dressed and remains unruffled no matter the peril? Or that he is a hero through and through and never flinches at danger? Our favorite is his hallmark use of technology. Even before it was popular for film heroes to brandish futuristic anything, bond had the high-tech gadgetry thing nailed down tight.
Maybe we don't have "Q Branch" supplying us with jetpacks, gyrocopters, and submersible cars with ejector seats, but Agent 007 has nothing on us when it comes to super cool home security and home automation technologies.
Be an Intruder's Worst Nightmare
Having the house boobytrapped with giant nets or poison darts is out, but that's okay. You have this under control with a real-world arsenal of practical, and super high-tech electronic home security solutions. Submersible cars are a great effect, but seeing your personal villain hauled away in the back of a squad car isn't so bad either.
Mission: Save (Your) World
Cue the 007 music. When it comes to smart home security technologies, truth is far better than fiction. In fact, if you aren't sure of what sort of technologies are available and the wide range of ways they can be implemented, you might want to dig in and be amazed. You can leverage smart security technologies in ways even Bond never dreamed of. Even better, while you are ordering, managing, and protecting your world you can do it all from bright, sleek touchscreen control panels and up your cool factor exponentially.
Smart Security Features Villains Hate
Whether it is Goldfinger, Blofeld, or Colonel Von Hammerstein, you have the weapons they fear most. Motion sensors, door and window contacts, glass break sensors, and monitoring form an impenetrable wall of protection that would even impress Bond himself.
But Bond would never stop there, and neither would you.
Every agent needs a steady stream of classified intelligence and indoor and outdoor surveillance provides exactly what you need. And you can access that information instantly and discreetly from your mobile device from anywhere in the world.
Of course, it is always important to keep villains on their toes, and one of the best ways to do that is with great fake-out maneuvers. Home automation is one of the best tools for confusing the enemy, providing a way to look home with lights and entertainment going off and on, and even sound home with the ability to answer the door via video doorbell and your mobile device. Even the most determined criminal doesn't want to mess with that.
All that and we don't need the Aston Martin. Of course, it never hurts to have one.
Call Us Today
Commercial Fire & Security goes beyond old-fashioned burglar alarm systems to a complete smart home solution offering a wide range of options that would even impress Agent 007. Call today for a free quote to get started.